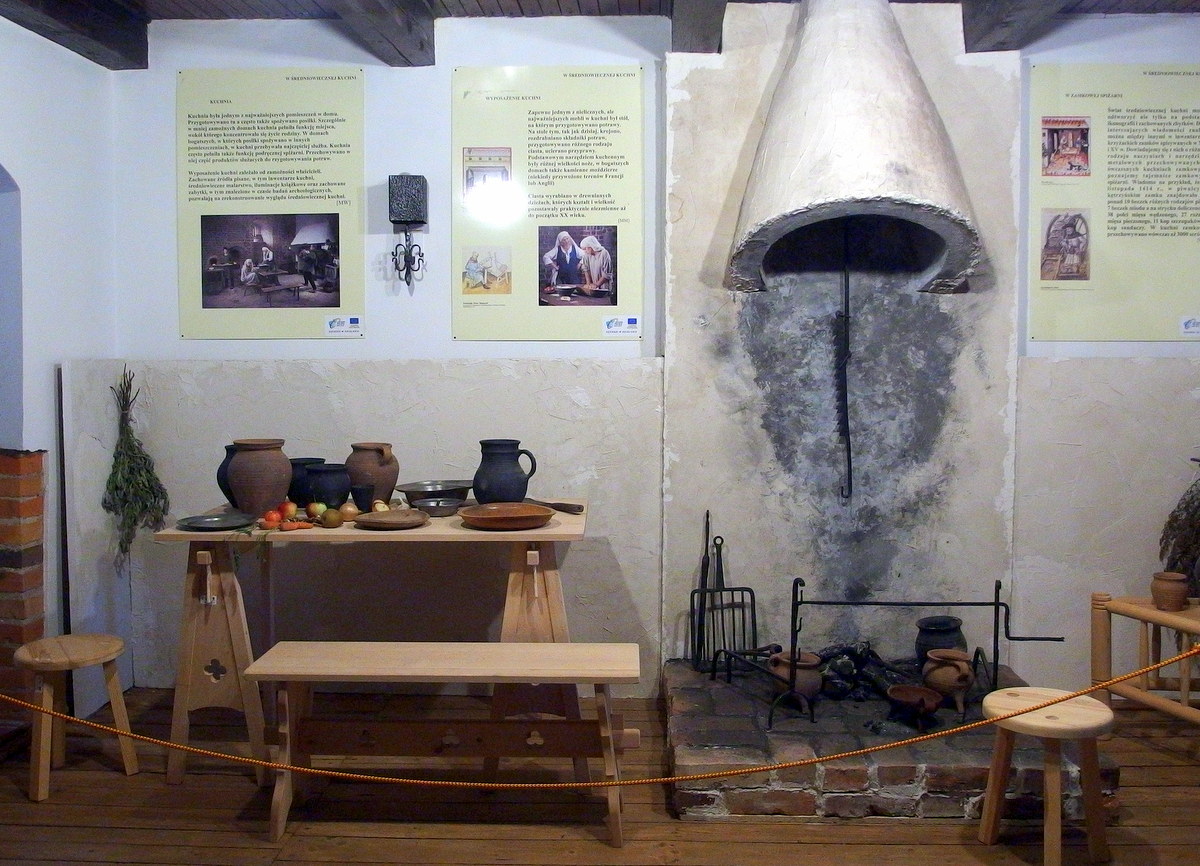 The exhibition "In the Medieval Kitchen", located in a medieval defensive tower, features reconstructed medieval kitchens based on written and iconographic sources. Visitors can learn about different types of fireplaces and kitchen utensils, ceramic, wooden, and pewter dishes, which were used to prepare food and during meals. Wooden furniture, ceramic and pewter dishes, and iron kitchen utensils were reconstructed based on archaeological finds.
The exhibition is complemented by original wooden dishes and utensils that were still used in rural households a few decades ago. Their appearance and method of manufacture have not changed for several hundred years. The exhibition is complemented by panels with texts and large-format photographs of scenes from a medieval kitchen by Monika Ekiert-Jezusek.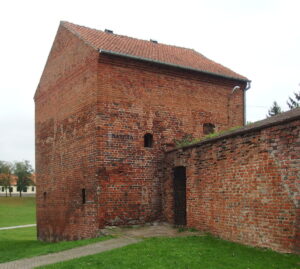 The tower located in the north-eastern corner of the city walls was an element of the city's defense system. It was built in the second half of the 14th century, probably before 1374. There were loopholes on two floors of the tower. Presumably, an entrance was placed on the first floor to provide communication with the galleries on the northern and eastern city walls. In the years 1667-1670, water from the Upper Pond was brought to the tower by a wooden pipeline. It is possible that a water well was located in the tower at that time, from which water was drawn or pumped to the city water supply system using a pump. In the 18th century, the Parade Square was located near the tower for the exercises of military units stationed in the city, and the Royal Salt Warehouse was located near the city wall.

The exhibition was prepared on the basis of the project "In the Medieval Kitchen – A New Transboundary Cultural Tourism Product" implemented in 2014 as part of Objective 3: European Territorial Cooperation of the Cross-Border Cooperation Program "Lithuania-Poland", which aims to support the sustainable development of the border area of Lithuania and Poland, by increasing economic, social, and territorial cohesion. The program was co-financed by the European Regional Development Fund.